These came in a torrent of creativity — paintings, collage, mosaic, woven work, tie-and-dye dresses, architectural models, light art, costume design, video wall displays, and welded mechanical engineering marvels. The exhibition offered insights into Chinese culture, Hong Kong's unique character, and the changing world. In many ways it was a visual expression of Yew Chung's mission to "align with arts and culture" as the school builds a multicultural outlook on the students' journey from baby to bachelor's.
Age no bar for art
The youngest contributor was three-year-old Gabrielle Tang from YCIS Hong Kong. She had participated in a collage made by her class, featuring stacks of random material like bubble wrap, inflatable bags and pieces of wood.
This work was an example of the goal of art education at YCYW where teachers are guided by children's interests rather than just skills. Interesting creations often come about through an exploration of materials that set off a child's senses and imagination. An example of this was "The Drawing Galaxy" in the cultural theme area, where children of all ages used paintbrushes, tape, and other material to give vent to their imagination across the floor.
Why the world is their canvas
The elementary school goes well beyond simple art to encourage the creative process. The clay dinosaurs hobnobbing in convivial fashion on the grass, were an example of such out-of-the-box works by first and second graders. The hanging honeycomb in the 'creative' area was another interesting take on animals and the environment.
The Yew Chung Yew Wah focus on global issues and history found keen expression in the Egyptian jewellery on display here as in the recycled plastic dance costumes and a striking collage on polar survival, "Ice life", which depicted animals battling the ravages of global warming.
Our fellows-in-residence division invites artists, scientists and dancers from all over the world to reside at the school to impart in-person skills and experience. Offering inspired guidance for the "Ice life" project was artist-in-residence Elisabeth Briel.
She described the excitement of working with students across disciplines and geographic boundaries, as they picked curriculum topics to "learn from art, exercise their minds, and discover new ways of seeing the world."
Students see themselves as creators
Yew Chung Yew Wah encourages secondary students to think out of the box and showcase their talents in a diverse and subtle yet rich manner. Talented Mauritian, Jacques Thomass, Head of Art at YCIS Hong Kong Secondary, believes the most important thing is to create a safe and supportive environment for students. "There are even open studios in the school," he says, "where people passing by can view works in progress." This gives students "an identity as creators".
On display in the exhibition's 'conceptual' area, one particular painting, "Emotions", provided a study in contrasts. The artist, Ariel Lau, YCIS Hong Kong Year 12 student and current IGCSE topper, loves the movie Split, which taught her about dissociative identity disorder. Said Ariel: "I used the different emotions felt by patients and others who hide their inner feelings. I drew these in pencil as reflections, contrasting two different colours to convey these conflicting emotions." Injecting poignancy into her work was her brother's tearful face that set off the contrast between joy and sorrow.
YCIS students come from diverse cultural backgrounds. US-born Year 12 student Maggie Cai, gave us, "Urban Scenes", a work contrasting her two childhood environments. Maggie loves the helter-skelter of shopping in Mongkok but deliberately painted this teeming area sans crowds to allow an undisturbed focus on a street scene with red minibuses and tenement buildings.
There were other daring experiments at the show. The hanging Qipaos created by students from the Yew Wah Shanghai Gubei Campus, was patterned using dyes extracted from pu-erh tea and rose petals, a hint at fashion and heritage.
ECE teachers get a new bag of ideas
The Pamela Peck Discovery Space, the community 'laboratory' at the pathfinding Yew Chung College of Early Childhood Education (YCCECE), was designed to showcase 'learning through play' in a close-up observation environment. College students working towards a diploma or a degree, took the opportunity of the YCYW 90th Anniversary Art exhibition to broaden their perspectives en route to becoming ECE teachers.
"Art can be integrated with subjects such as STEM as drawing allows children to explore different angles and perspectives," said Anson Wong, a second-year ECE Advanced Diploma aspirant. She was greatly inspired by the exhibition.
Another zone themed, 'contemplation', featured dynamic art installations as well as an interactive space for children to sit by the window to read illustrated storybooks created by YCCECE students.
One of the books, Charlie's got a Toothache, is a pictorial about how a youngster overcomes his fear of the dentist. The author, Charandeep Kaur, graduated from the part-time programme with a Bachelor of Early Childhood Education degree from the Yew Chung College of Early Childhood Education. She has been working in kindergartens for five to six years, but this was her first attempt at creating a picture book telling the story of a child in her class with a toothache.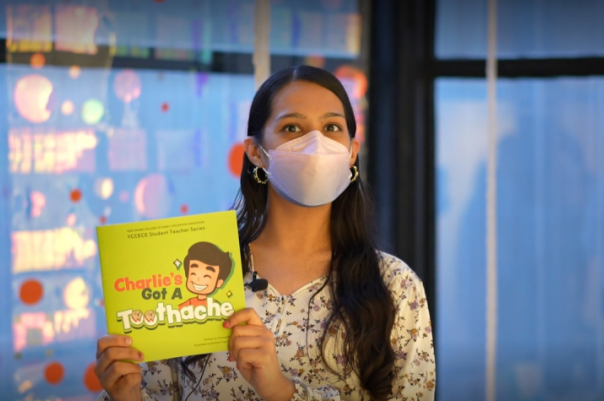 Charlie's got a toothache by YCCECE graduate Charandeep-Kaur
She put herself in a child's shoes and switched her perspective. "The readers are mostly four and five-year-olds, so the language is both concise and fun," she explained.